Waterproof Flooring in Beaumont, TX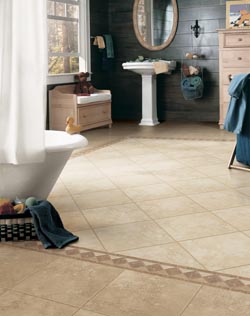 Upgrade your home or business with versatile waterproof flooring in Beaumont, TX. At our store, we carry a full selection of materials that combine beauty and durability for a stunning look that lasts. Whether your goal is to elevate your bathroom, basement, or another part of your home, you will find the perfect product when you turn to us. Our waterproof luxury vinyl flooring is available in patterns and styles even discerning homeowners will love. Shop with us to explore endless varieties for every room.
Affordable Waterproof Floor Options
Improve any part of your home with our inventory of flooring materials. When you shop with us for your products, you are sure to find something you love. We make it easy for you to update your space without overspending on your new materials. Our selection of waterproof flooring includes products from some of the top brands in the industry today, such as Downs H20 and Tigressa H20.
How Does Waterproof Flooring Work?
This unique material is crafted in layers, which allows it to resist damage from liquids. In other words, spilled juices, water, and other types of liquid will not soak through to the subfloor. When you choose these floors for your home, you'll no longer stress over having to clean up quickly after a mess occurs. Any accident can be easily wiped away, leaving your flooring looking great again.
Durable Waterproof Luxury Vinyl Flooring
For high-traffic spaces, a beautiful option are vinyl waterproof floors. Luxury vinyl resembles high-end materials, like hardwood and stone, bust doesn't come with a hefty price tag. It also offers homeowners easy maintenance, making it the perfect option for households with children or pets.
Waterproof Carpet in Stunning Styles
Create a look you are proud to show off to the neighbors when you shop with our team for waterproof carpet. With this type of waterproof flooring in your rooms, pets and small children will be safe to roam. No matter which product you choose from our local showroom, you'll find an excellent selection of materials in various styles and patterns. We are happy to speak with you about each of your options so that you can make an informed decision for your purchase. When you turn to us, you will make the right choice for every room in the home.

Contact us in Beaumont, Texas, to discover more about our collection of waterproof flooring. We carry waterproof luxury vinyl flooring for customers throughout the area.