Tile Flooring in Beaumont, TX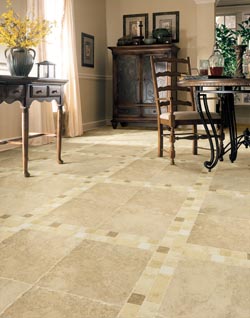 Enhance the value and appeal of your home by choosing from our broad selection of stylish and durable tile flooring in Beaumont, TX. When your existing floors begin to fade and wear, the time may be right for a change. Come in for a visit, and sit down with one of our design specialists to find the right color and texture of floor tiles for your home.
New porcelain tile floors can make a huge difference in your business, and slate tile offers a natural look that is both elegant and striking. Bring in your design plan, and any samples you may already have, and let us find the flooring you need to accentuate your home décor. With a better understanding of your needs for the look, performance, and price of your floors, we can find the original look you need for your interior.

Tile Flooring with Easy Maintenance Needs

Keep your new ceramic, porcelain, or slate tile floors looking brand new for many long years. Because they don't have fibers, these types of floors don't trap dirt and dust that can make you cough and sneeze. In addition, as these floors repel dirt, dust, dander, and other allergens, keeping them clean is as easy as sweeping periodically and mopping with a mild cleaning solution. It's important to clean your floors regularly so that dirt doesn't make your tile look dull or dingy. With proper sealing by our installers, your grout should stay clean and resist moisture for many years. When cleaning your grout, you should never use abrasive cleaning agents or scouring pads because these can wear away the grout sealant.
Adaptable and Attractive Tile Options for Any Room
Ceramic tile has been a valued building block of stylish homes for centuries, and now you can have this timeless and versatile look in your own home. Since ceramic is softer than porcelain, it is easier to cut into a broad array of shapes for innovative installations. Rely on us to help you create astounding kitchen backsplashes and original mosaic patterns in your master bathroom or kitchen. In the hands of the right installation professional, the design options are almost limitless.
This material is cost-effective, durable, and easy to repair. In addition, it is easy to maintain and available in numerous colors and patterns. With tile, there is no need to expose the members of your household to harsh chemicals and cleaners because all that is needed for these floors is some warm water and a mop.
Our porcelain tile is just as easy to clean as the ceramic flooring we offer, but there are differences as well. These tiles are manufactured in a way that results in a color consistency that is baked throughout each tile. This means any chip your tile floors sustain will not affect the surface color. A minor chip or occasional scratch won't force you to replace the entire tile in question. This is a huge advantage for those homes with busy children and active pets.
Natural stone and slate tile floors are a sought-after commodity for today's interior designers. The clean and natural look allows you the flexibility to change the décor in any room without ripping up the flooring as well. This variety of tile matches a broad array of interior design plans, and the look is sure to have your prospective customers ready to make a deal with your company in short order. A professional look can make a huge difference in your offices, so have a professional install new slate flooring today.
When you're looking for the very best in tile flooring, you can count on us to provide some of the most trusted brands in the industry. From Star Values porcelain tile to ceramic brickwork pavers by Floorcraft, we have everything you need to transform your home into a stylish and functional area. Visit our flooring store to choose from a variety of ceramic, porcelain, and slate tile options in a range of colors, sizes, and tile shapes. By combining different colors of ceramic tile, you can create a gorgeous and unique mosaic pattern in any room.

Tile Flooring Installation by Skilled Experts

Professional tile flooring installation can bring your design plans to life, and it won't cost you a fortune in the process. When you consider the potential for repair costs down the road, it makes sense to trust an experienced contractor with your new flooring investment. Best of all, when you rely on our experts for your installation needs, you get the benefit of our Lifetime Installation Guarantee. If you ever experience installation-related problems with your tile floor, we'll make it right at our expense.

Contact us for design assistance and a free estimate on the price of new tile flooring for your home. We proudly serve customers in Beaumont, Orange, Port Arthur, Nederland, and Port Neches, Texas, and surrounding communities.