Laminate Flooring in Beaumont, TX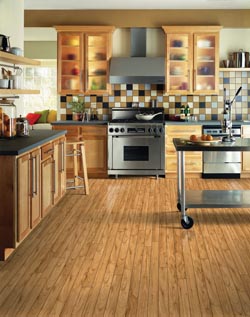 Your home is your palace. Give your interior a regal appearance with our laminate flooring options. Laminate provides all the aesthetics of hardwood and stone tile without needing to pay a king's ransom. Its simple installation methods and visual versatility mean you have a surface that is engineered to last. Pick the style that best suits your tastes, such as laminate tile or wood appearance, and have it installed in record time. Our prompt team of flooring experts is ready to transform your interior to the style you always wanted.
Simply put, laminate floors are durable, economical options compared to many conventional flooring materials available today. Laminate is fabricated to look like stone or hardwood, and it is relatively inexpensive to make. Its ingenious interlocking design also allows laminate to be installed quickly and easily, making this material the floor of choice for relatively easy home renovation projects.
Unsightly stains and lasting damage are things of the past when you choose laminate. Since it is made from synthetic materials, laminate is much easier to maintain than carpeting. All you need is a broom or vacuum and a damp mop to keep your floor looking good as new. On top of that, laminate resists mold and doesn't retain unpleasant odors. It's the sensible option for health-conscious families and considerate hosts.
Laminate is also specially engineered in layers, which work closely to protect the integrity of your floor. This design ensures your floor's look will not be left worse for wear. In addition, laminate is lightweight and simple to install. In short, it provides all the aesthetics and durability you want at an affordable price.


Laminate Options for Any Style
Give your home timeless appeal with laminate tile flooring. Due to modern manufacturing methods, laminate can replicate a variety of stone materials and patterns that suit your specific tastes and – best of all – your budget! From palatial slate to rustic terracotta, our laminate tile options give your property a personality of its own. Unlike old laminate of the past, these high-quality floors add value and ambiance to your home. Tell us the style you want, and our friendly sales team will locate the perfect floor for your private palace.
Wood imparts an ageless visual impact on homeowners and guests alike. Our company is proud to provide laminate wood flooring styles that closely resemble their natural hardwood floor counterparts. Choose from a variety of species, colors, and styles.


Prompt Laminate Flooring Installation
With its durability, ease of maintenance, wide variety of styles, and cost-effective versatility, laminate is the go-to material for adding a stunning visual appeal to your property. When you find the style of your dreams, our professional team of installers is more than happy to install it for you. Our laminate flooring installation services work with your schedule to achieve the ideal look you want in your home. Whether for a single room or for your entire property, we provide everything you need to transform your interior.

Your new floor is waiting for you. Contact us today to learn more about our extensive laminate flooring collection. We proudly serve customers in Beaumont, TX, and the surrounding areas.